Bend Oil Change


Serving The Community Of Bend & Central Oregon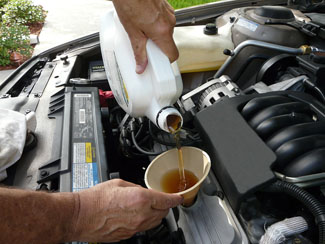 We are committed to serving our customers well, particularly when it comes to oil changes for your vehicle. We offer transportation and shuttle service to get you to work within Bend city limits. For added convenience, we have a key drop-off service, or just stop by or give us a call at a time that's convenient for you.
We specialize in offering state-of-the-art automotive services to care for the needs of our customers' vehicles. Our technicians are ASE-certified and routinely carry out Specialty Automotive's Signature Oil Change Service with the utmost efficiency and professionalism. In the process, we will review your manufacturer's service recommendations for you so we can help to maintain your vehicle warranty and give you peace of mind.
We also offer many preventive vehicle maintenance services that go beyond oil changes. Other services include brake repairs, cooling system services, shocks and struts repair, automobile fluid exchanges, and many more.
For an oil change coupon or for oil change prices, visit our Facebook page for updates and current discounts. For a great alternative to Jiffy Lube or Oil Can Henry's, give us a call or stop by our location in Bend, Oregon. We look forward to serving you and your vehicle.
Dodge - Toyota - Honda - Nissan - Chevy - Subaru - Jeep - Ford
Saturn - GMC - Kia - Isuzu - Buick - Cadillac- Hyundai